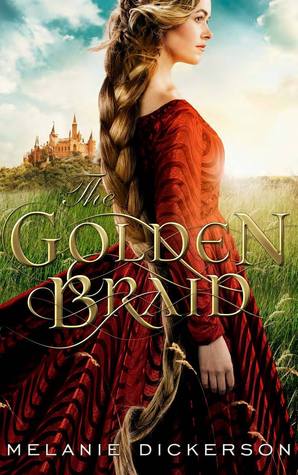 The Golden Braid by Melanie Dickerson
Grade: C-
Release date: November 17, 2015
An e-galley was provided by Thomas Nelson via NetGalley in exchange for review consideration.
Summary:
The one who needs rescuing isn't always the one in the tower.
Rapunzel can throw a knife better than any man around. And her skills as an artist rival those of any artist she's met. But for a woman in medieval times, the one skill she most desires is the hardest one to obtain: the ability to read.
After yet another young man asks for Rapunzel's hand in marriage, Mother decides they need to move once again, but this time to a larger city. Rapunzel's heart soars—surely there she can fulfill her dream. But Mother won't let her close to a man. She claims that no man can be trusted.
After being rescued by a knight on the road to the city, and in turn rescuing him farther down the road, Rapunzel's opportunity arrives at last. This knight, Sir Gerek, agrees to educate Rapunzel in order to pay back his debt. She just has to put up with his arrogant nature and single-minded focus on riches and prestige.
But this Rapunzel story is unlike any other and the mystery that she uncovers will change everything—except her happily ever after.
The Good, the Bad, and the Ugly: Tangled is one of my favorite Disney movies ever, so I'm always interested in Rapunzel retellings. I've also enjoyed Melanie Dickerson's past books, so it was a given that I would read The Golden Braid. Unfortunately, I didn't enjoy it nearly as much as The Healer's Apprentice or The Merchant's Daughter.
The writing was not nearly as smooth as it could've been. It felt fairly basic for a YA/NA story. There was a lot of telling and not showing. Also, everything seemed too easy for Rapunzel and Gerek. I knew they were going to emerge unscathed. There was also a plot twist that I predicted only a third of the way into the book that turned out to be right.
The Golden Braid is set at the same time as The Princess Spy, and a lot of the events overlap so Ms. Dickerson did a lot of summarizing in this novel. I found that boring and awkward. Honestly, I think the story would've been better had it been set later than the events of The Princess Spy.
And if I'm being honest, I didn't really ship the relationship. Like, in Melanie's first three books, I really wanted the couple to end up together. But I honestly didn't care if Rapunzel and Gerek were endgame (which, I knew they would be).
The Verdict: I feel pretty meh about this one.
Will I be adding this book to my library?: Possibly.