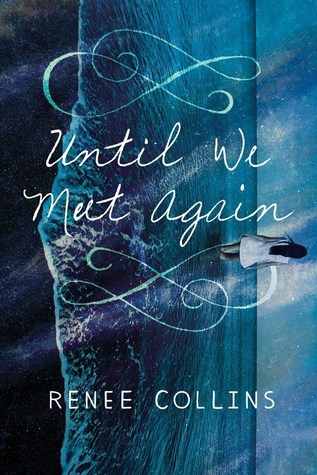 Until We Meet Again by Renee Collins
Grade: D+
An e-galley was provided by Sourcebooks Fire via NetGalley in exchange for review consideration.
Summary:
Cassandra craves drama and adventure, so the last thing she wants is to spend her summer marooned with her mother and stepfather in a snooty Massachusetts shore town. But when a dreamy stranger shows up on their private beach claiming it's his own—and that the year is 1925—she is swept into a mystery a hundred years in the making.
As she searches for answers in the present, Cassandra discovers a truth that puts their growing love—and Lawrence's life—into jeopardy. Desperate to save him, Cassandra must find a way to change history…or risk losing Lawrence forever.
The Good, the Bad, and the Ugly: I'm a sucker for time travel and gorgeous covers. Unfortunately, the latter can be rather misleading, and that's what happened in the case of Until We Meet Again.
A lot of this novel felt cliche, between Cassandra's parents and Cassandra thinking her love could save Lawrence. The two teen leads were also fairly flat. There was no character development for them, and they both proclaimed they were in love pretty fast. Also, both of them were pretty naive. Lawrence was convinced one character had no idea about another character's true identity, when it was clear that the first character did. There's also a plot involving the beach and (I'm trying to be spoiler-free here), there's a pretty logical solution but neither Lawrence of Cassandra considers it.
Since I felt pretty meh, about this book, there's not much more I can say. Romance-wise, there was kissing and making out and definitely lots of references that Fay slept around a lot. There's some violence.
The Verdict: Not really worth your time. If you're looking for a good star-crossed romance novel that messes with time, try Time Between Us or Parallel.
Will I be adding this book to my library?: No.