**Note: this review is going to be a little different from my usual reviews, because we were required to write a review in my journalism class this semester, and I chose to rave about The Names They Gave Us. Also, all quotes are taken from an uncorrected proof, so they may be different in the final copy.
I will preface by saying, a
s much as I love
Open Road Summer
, Emery Lord excels most when she's writing about grief - both the beginnings of it and the moving on bits. That's why I love
The Start of Me and You
,
and now
The Names They Gave Us
, so much.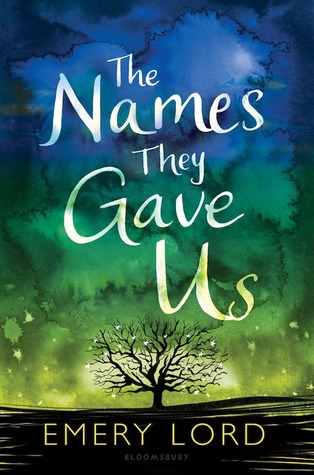 The Names They Gave Us by Emery Lord
Grade: A+
Release date: May 16, 2017
An ARC was provided by the publisher in exchange for an honest review.
Summary:
Lucy Hansson was ready for a perfect summer with her boyfriend, working at her childhood Bible camp on the lake. But when her mom's cancer reappears, Lucy falters—in faith, in love, and in her ability to cope. When her boyfriend "pauses" their relationship and her summer job switches to a different camp—one for troubled kids—Lucy isn't sure how much more she can handle. Attempting to accept a new normal, Lucy slowly regains footing among her vibrant, diverse coworkers, Sundays with her mom, and a crush on a fellow counselor. But when long-hidden family secrets emerge, can Lucy set aside her problems and discover what grace really means?
Review: In her fourth novel, Emery Lord explores themes of anxiety, doubt, faith, and growth, all through the voice of 17-year-old Lucy Hansson. Doubt and growth are not unfamiliar topics for Lord's past books, but faith is certainly a new theme for her to tackle, and she does it masterfully, while showcasing well-formed characters as well as brokenness, new friendships, and summer romance.
The Names They Gave Us features a cast of around ten significant characters. Lucy, of course, is the most important. From chapter one, her character traits are clear—helpful, caring, take-charge, and creative, all important traits for a camp counselor. Supporting characters include Lucy's parents; Rhea, the camp director; Lukas, the aforementioned ex-boyfriend; Bryan, the camp's therapist; and her fellow high school junior counselors, Keely Simmons, Anna Miroslaw, Henry Jones, and Mohan Tambe. Each of the counselors—who are already a tight-knit group but become Lucy's friends over the course of the book—gets a fair amount of characterization, and I appreciated how Lucy's mom and dad were defined through their relationships with her but also by their pasts and through their relationship with each other. One of the few things that would improve The Names They Gave Us is more time to process all the other counselors' backstories/baggage, particularly since Mohan's is never shared. Anna's gets perhaps the most focus after Lucy's, and both Keely's and Henry's are touched on during key moments, but I wanted more of their stories in general.
I love several things about The Names They Gave Us, too many to fit in this review. There are so many little moments that pulled me into the story, and I think readers will connect with them, as well. Lord's writing is magnificent, highlighted by the way she uses words. Some of my favorite moments are at a wedding ("I'm not prepared for 'La vie en rose' amid their life in lavender" [321]), and when Lucy describes her favorite part of nature: "Because when you're little, it seems like clouds are solid, like you could sit on some. But then you grow up and cut through them in an airplane, ad when you're high enough, they blanket the world with soft cotton" (99). Chapter three's structure is centered around numbers, like how long Mrs. Hansson's surgery takes and how many sermons Pastor Hansson preaches; this, to me, illustrates how Lucy is trying to process everything. Lord also uses details to anchor important moments and make them stand out, such as in the first chapter when Lucy's parents deliver the bad news and when Lucy is thinking through things, particularly her relationship with God, throughout the book.
Few young adult novels cover faith and religion as well as they should; most feature atheist or agnostic characters, and any Christians present are stereotypically self-righteous, hypocritical, and judgmental. Lucy, her parents, and Henry—the primary Christian characters—are none of those things. Lucy's faith is of course shaken by the recurrence of her mother's cancer, but she tries on several occasions to hold onto her relationship with God. Lucy's mother is a good source of wisdom; her faith seems steady throughout The Names They Gave Us, despite the pain she goes through. Mrs. Hansson is one of my favorite parts of the novel. Henry, who has experienced grief, too, also speaks words of wisdom. Lucy asks at one point if he regained his faith after his anger with God, and he responds, "All that church stuff seemed black and white when I was little—easy. And now it's gray, but I…choose it anyway, I guess" (237). The fact that he chooses it makes all the difference, and I think it's good for readers to see fellow teenagers exploring religious questions.
Speaking of Henry, he and Lucy form a good friendship and then a blossoming romance. He is caring, giving, and friendly, and he challenges Lucy to think, share, and learn. Yet, he is also respectful of her boundaries, both because he knows of her recent break-up and because of who he is as a person. Yet, when their romance finally takes off about three-fourths of the way through, it is as satisfying and well written as the rest of the novel.
There are about fifteen s-words and five f-bombs, and most of them felt like they weren't too gratuitous.
The Verdict: Probably my second favorite of Emery's books (if anything can displace The Start of Me and You, it'll be a miracle). So worth the read.
Will I be adding this book to my library?: Absolutely. I've had it on preorder since last June.