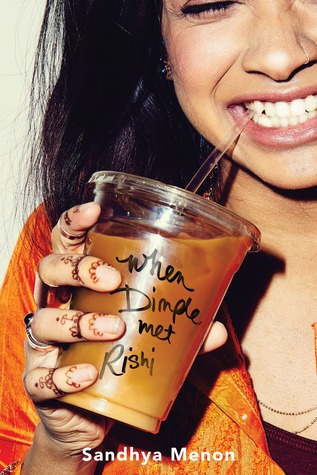 When Dimple Met Rishi by Sandhya Menon
Grade: C+
Release date: May 30, 2017
I received my ARC in trade with another blogger.
Summary:
A laugh-out-loud, heartfelt YA romantic comedy, told in alternating perspectives, about two Indian-American teens whose parents have arranged for them to be married.
Dimple Shah has it all figured out. With graduation behind her, she's more than ready for a break from her family, from Mamma's inexplicable obsession with her finding the "Ideal Indian Husband." Ugh. Dimple knows they must respect her principles on some level, though. If they truly believed she needed a husband right now, they wouldn't have paid for her to attend a summer program for aspiring web developers…right?
Rishi Patel is a hopeless romantic. So when his parents tell him that his future wife will be attending the same summer program as him—wherein he'll have to woo her—he's totally on board. Because as silly as it sounds to most people in his life, Rishi wants to be arranged, believes in the power of tradition, stability, and being a part of something much bigger than himself.
The Shahs and Patels didn't mean to start turning the wheels on this "suggested arrangement" so early in their children's lives, but when they noticed them both gravitate toward the same summer program, they figured, Why not?
Dimple and Rishi may think they have each other figured out. But when opposites clash, love works hard to prove itself in the most unexpected ways.
The Good, the Bad, and the Ugly: While I enjoyed When Dimple Met Rishi, I didn't love it like I wanted to for a few key reasons.
The drama with the "popular" kids felt a bit tired. I'm tired of rich bullies being the driving antagonists in a story. Because of them, Celia felt a bit too two-dimensional for most of the book, although she and Isabelle get some needed depth at the end.
I liked that Dimple loved coding, and her motivation behind her project was portrayed well. She's definitely a compassionate girl, no matter how closed off she wants to appear. I wanted even more of her relationship with her father. Rishi felt a little two-dimensional at times, but his personality differed from Dimple, which I appreciated in the dual third-person narration.
And then there's the whole romance plot. Of course I knew Dimple and Rishi were going to get together, and I did ship them. Both their "first" meetings - you'll see what I mean if you read the book - were precious. But a lot of pieces of their relationship happened too fast. They said, "I love you," after having known each other only a few weeks. Their relationship moved too fast and maybe it was in character for them, but I didn't know enough about Rishi and Dimple prior to meeting them in the story to know if they were the type of teenagers to move so quickly (and not all teenagers do, trust me).
No foul language that I can recall. There's making out and some lead-up to a fade-to-black sex scene.
The Verdict: Pretty good, but I expected it to be great.
Will I be adding this book to my library?: Yeah, it's preordered.