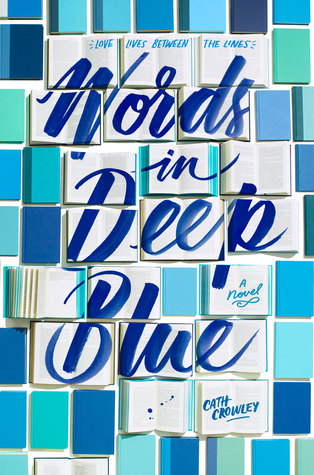 Words in Deep Blue by Cath Crowley
Grade: D
Release date: June 6, 2017
An e-galley was provided by the publisher via NetGalley in exchange for review consideration.
Summary:
Years ago, Rachel had a crush on Henry Jones. The day before she moved away, she tucked a love letter into his favorite book in his family's bookshop. She waited. But Henry never came.
Now Rachel has returned to the city—and to the bookshop—to work alongside the boy she'd rather not see, if at all possible, for the rest of her life. But Rachel needs the distraction. Her brother drowned months ago, and she can't feel anything anymore.
As Henry and Rachel work side by side—surrounded by books, watching love stories unfold, exchanging letters between the pages—they find hope in each other. Because life may be uncontrollable, even unbearable sometimes. But it's possible that words, and love, and second chances are enough.
The Good, the Bad, and the Ugly: I am tempted to call this the biggest disappointment of 2017. I was so looking forward to a book about books and bookshops and second chance love stories.
However, Words in Deep Blue starts off with a very blah voice. I kept losing track of who was narrating - Rachel or Henry, and neither of their voices impressed me. The book is lacking in details that could make it really come to life. None of the characters stand out as very interesting. In addition, secret-keeping and communication issues are terribly overdone plot devices.
Because I couldn't get invested in the beginning of the book, I skimmed the rest, and it didn't seem to get any better. My inner hopeless romantic did not appreciate the ending.
Way too much foul language, too.
The Verdict: Not at all what I wanted it to be. It's a shame, too; the cover is gorgeous and would look beautiful on any bookshelf.
Will I be adding this book to my library?: No.