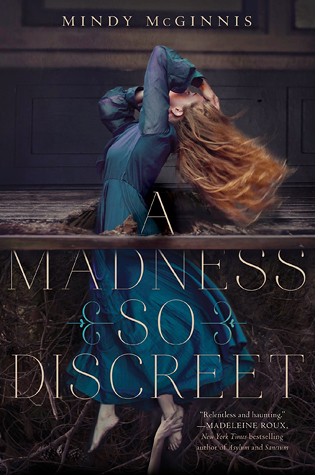 A Madness So Discreet by Mindy McGinnis
Grade: A
Release date: October 13, 2015
Summary:
Grace Mae knows madness.
She keeps it locked away, along with her voice, trapped deep inside a brilliant mind that cannot forget horrific family secrets. Those secrets, along with the bulge in her belly, land her in a Boston insane asylum.
When her voice returns in a burst of violence, Grace is banished to the dark cellars, where her mind is discovered by a visiting doctor who dabbles in the new study of criminal psychology. With her keen eyes and sharp memory, Grace will make the perfect assistant at crime scenes. Escaping from Boston to the safety of an ethical Ohio asylum, Grace finds friendship and hope, hints of a life she should have had. But gruesome nights bring Grace and the doctor into the circle of a killer who stalks young women. Grace, continuing to operate under the cloak of madness, must hunt a murderer while she confronts the demons in her own past.
The Good, the Bad, and the Ugly: I'm gonna be completely honest. I let Hannah read and review Mindy McGinnis's first two titles for the blog because they didn't interest me as much. But this one was historical fiction, so I knew instantly that I wanted to read it. And I do not regret this decision one bit.
A Madness So Discreet explores a topic in history that I knew very little about. I am inclined to believe much of the events are based on history (to an extent); Mindy's author note was not available in the ARC I read, so I cannot say for certain. But none of the actions in the insane asylums were, unfortunately, too farfetched.
Grace is fascinating protagonist. She goes through much and makes tough choices, and I applaud Mindy for never making her seem unnecessarily weak. I do wish her reaction to a character's death was a bit more fleshed out. As for other characters, I totally wanted more of Adelaide. I appreciated how open Nell was. Janey and Mrs. Clay were wonderful characters.
There isn't a romance at all, which I appreciated greatly. It would've felt shoehorned in if McGinnis had included one.
A Madness So Discreet is very dark. There are a lot of triggering topics explored (rape and molestation are two of the main ones), and there is also a lot of death. Grace is a gray character - she doesn't always make the morally right choice, but she also isn't as insane as I thought she would be when I started reading. Don't get me wrong - that was nice and I'm glad this was one instance where my expectation was incorrect. But it definitely would've been interesting to be inside the head of someone who was insane.
There is a fair amount of violence, very little language, and some sexual content is referred to (although never explicitly seen).
The Verdict: I cannot recommend A Madness So Discreet enough. If you loved The Naturals or Something Strange and Deadly, this is a novel for you.
Will I be adding this book to my library?: It's on my wishlist!