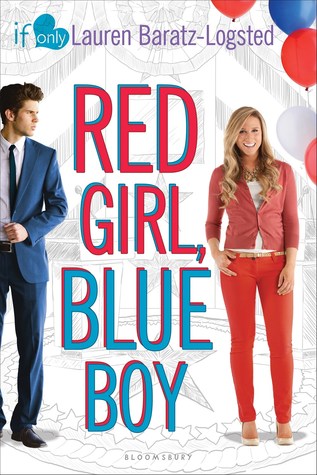 Red Girl, Blue Boy by Lauren Baratz-Logsted
Grade: D
Release date: October 20, 2015
An e-galley was provided by Bloomsbury USA Children's in exchange for an honest review.
Summary:
Sixteen-year-old Katie and Drew really shouldn't get along. After all, her father is the Republican nominee for President of the United States while his mother is at the top of the Democratic ticket. But when Katie and Drew are thrown together in a joint interview on a morning talk show, they can't ignore the chemistry between them. With an entire nation tuned into and taking sides in your parents' fight, and the knowledge that—ultimately—someone has to lose, how can you fall in love with the one person you're supposed to hate?

This title in the If Only line is a frank and funny romance that shows how sparks fly when opposites attract.
The Good, the Bad, and the Ugly: *giant sigh* This book had all the potential to be cute and fun, but it was a major failure. The amount of incorrect information was overwhelming, and nothing felt true to reality. A journalist was so extremely unprofessional that, Katie was overly formal and she was kind of delusional, and all of the dialogue sounded much too formal or incorrect for the character's age. The writing was overly dramatic and cliche. The two narrators, Katie and Drew, felt like caricatures and they sounded fourteen not sixteen. Just... none of Red Girl, Blue Boy seemed realistic in the slightest. I found myself skimming towards the end, because I didn't care what happened to the characters or how the plot turned out.
I'm sad I didn't like this one more, because I think the If Only line has such a good premise.
The Verdict: I believe my final thoughts can be summed up with this West Wing gif:
Will I be adding this book to my library?: Nope.